The following are just a few destination possibilities in Central America and the Caribbean:
Costa Rica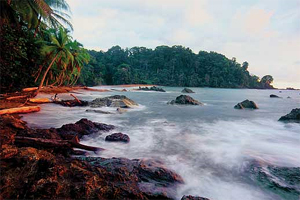 Photo by Instituto Costarricense de Turismo
Over the last two decades, Costa Rica has become one of the world's premier ecotourism destinations. The country has also succeeded in sustaining a peaceful democracy next to sometimes tumultuous neighbors. Nature lovers will thrive with all the activities available in Costa Rica from rainforest canopy tours and bird watching to kayaking, rafting and deep-sea fishing.
Popular experiences for tourists include visiting the fiery Arenal Volcano, seeing monkeys at Manuel Antonio National Park, going bird watching in the Monteverde Biological Cloud Forest Reserve and observing sea turtles at Tortugero National Park.
Dominican Republic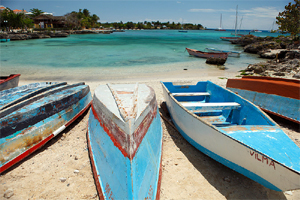 Photo by Dominican Republic Tourism Ministry
The Dominican Republic (or DR) is located on the eastern half of the island of Hispaniola. The country is known for all-inclusive resorts located on the DR's white sand beaches. Small fishing villages, 500-year-old Spanish colonial sights and crystal clear waters mean that active travelers can also enjoy this island nation.
The country's two main resort areas are Punta Cana and Puerto Plata. The Punta Cana area is located at the eastern tip of the island. This region has the country's best beaches with good snorkeling in clear blue waters and one of the Caribbean's sunniest regions. Puerto Plata is located on the windier and wetter North Coast. The North Coast has more for independent travelers with wind surfing, mountain hiking and the oldest fort in the New World.
St. Lucia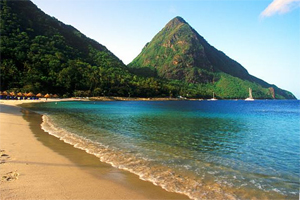 Photo by St. Lucia Tourist Board
St. Lucia is one of the Caribbean's windward islands. The island is a popular honeymoon destination but the island offers something for all types of travelers. St. Lucia offers sandy beaches and dense rainforest punctuated by the majestic Piton Mountains.
Some travelers that visit St. Lucia come simply to enjoy remote posh resorts. Others may want to head into town (Soufrière or Castries) to enjoy the island's Caribbean culture with both British and French heritage or go hiking in St. Lucia's natural beauty. Another good way to experience the beauty of the island is to take a sailboat cruise along the coastline with the best views of the Piton Mountains.
Multimedia Links