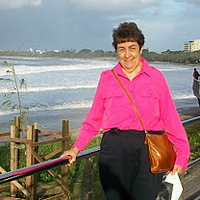 Hello, my name is Nancy Hannan. I have been a travel agent for over 15 years. I specialize in leisure travel sales, love to travel and love to help others plan travel.

Many years ago I married an Aussie who's introduced me to fabulous Australia. Since then I have traveled to Australia and New Zealand more than a dozen times. On the way to or from Australia I have also visited Tahiti and Fiji. Across the Atlantic Ocean, I've traveled to many European countries including France, England, Spain, Italy, Greece, Norway, Ireland and Italy. Over a decade ago I began exploring Asia with a 3 week trip through China which cumulated in Hong Kong. On a subsequent visit I traveled to Singapore and returned to wonderful Hong Kong.
While travel overseas is wonderful, it can take more time and money. Many of my trips have been to more manageable destinations nearby in North America that are equally amazing. On both personal trips and travel agent familiarization (or "fam") trips I have experienced most Mexican beach resort areas and many islands in the Caribbean. North America has some of the most magnificent natural scenery in the world and I have enjoyed it from Nova Scotia and Maine to Alaska and Hawaii.

Specialization
Keeping up-to-date on the happenings in the travel industry is as important as travel itself. Going to seminars and training while specializing in unique destinations is an important part of being a professional travel consultant.
Tourism Australia has recognized my knowledge and training by qualifying me as an Aussie Specialist. This program is for a dedicated group of travel agents that are actively selling and promoting travel to Australia. Part of the program is recurrent training to ensure agents are up-to-date on the latest travel developments in Australia. Similarly, Tourism New Zealand has qualified me as a Kiwi Specialist. The Kiwi Specialist program is an even more rigorous program requires agents to visit New Zealand at least every three years to stay qualified.
Down Under Connections
Nancy Hannan is an independent contractor for Travel Leaders-Market Square Travel. Market Square Travel is based in Maple Grove, MN and accredited by the International Airlines Travel Agent Network (IATAN).